Enhancing Quality of Life with Specialized Care
Tidewell provides a variety of specialized services to help improve quality of life for our patients and families by assisting in pain and symptom reduction and addressing the unique needs of the variety of populations we serve.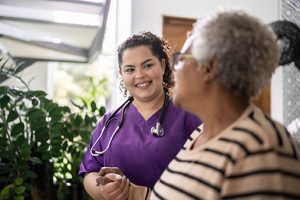 In addition to providing the highest quality, compassionate hospice care, Tidewell understands that some patients and families have unique needs. During our more than 40 years of experience, we have prided ourselves on listening and responding to the needs of the communities we are honored to serve.
For patients with end-stage heart disease, Tidewell has created an acclaimed Advanced Cardiac Care Program to help manage the difficult challenges our patients can face.
Chronic Obstructive Pulmonary Disease (COPD) is a progressive condition that can lead to numerous hospitalizations. Our COPD Program was designed to create specialized care plans for our patients with this disease.
Tidewell has also learned over the years that our beloved veterans often face unique challenges at the end of life that require a specialized approach. We've developed a robust Veterans Services program to honor these patients and their families and connect them with unique services developed just for them.
We have been a certified Jewish Hospice since 2006. This certification includes extensive staff training on the Jewish culture to help us better understand how to meet our Jewish patients and families' needs in the most sensitive, appropriate ways.
Complementary services that improve the quality of life for our patients include music therapy, pet therapy, expressive arts, horticulture, aromatherapy and humor/clowning.
Tidewell offers a variety of grief services including bereavement counseling, community counseling and specialized programs for children and families.
Our Blue Butterfly Program provides specialized grief support for children and teens ages 5 to 18.
Tidewell and Empath Health provide Advance Care Planning for all communities we serve. Having an advance care plan in place is a crucial part of making your wishes known to your loved ones and healthcare providers. We can walk you through the entire process.