Advanced Cardiac Care
End-stage heart failure brings a complicated set of symptoms to manage that can be frightening and very uncomfortable. Tidewell Hospice offers specialized care to help patients manage their symptoms and concerns, allowing them to remain in the comfort of their home.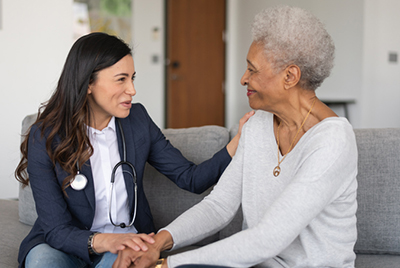 Tidewell's Advanced Cardiac Care provides individualized care plans including:
Regular visits from a specially-trained nurse. The nurse will work with you and your hospice care team to control cardiac symptoms at home
Specially-designed cardiac education
Oversight from a hospice and palliative care physician
Medications prescribed to control symptoms
Additional support from Tidewell's social workers, nursing assistants, chaplains, grief counselors, and, if requested, a volunteer
Signs it is time to call Tidewell Hospice about end-stage heart failure:
Swelling in the arms/legs or abdomen
Recurrent congestive heart failure at rest
Difficulty breathing at rest resulting in decreased activity
Recurrent hospitalizations or ER visits due to worsening symptoms
Other health issues such as kidney disease, lung disease or dementia
For more information on how Tidewell Hospice can help those with heart failure call (941) 894-1777.