Honor and Specialized Care for Veterans and their Families
Tidewell Hospice recognizes that veterans often face unique challenges at the end of life. Through the Tidewell Honors Veterans program, we provide care and support to meet the unique needs of our veteran patients.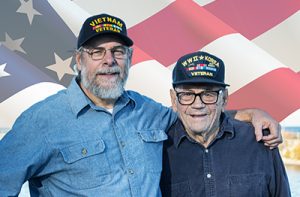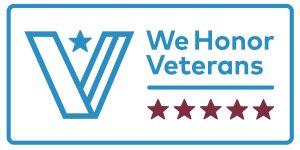 This care and support includes psychosocial support for veterans dealing with post-traumatic stress disorder (PSTD) or traumatic brain injury (TBI) or the overall effects of combat that have re-emerged as they are facing their own mortality. Veteran family members also receive special care through support groups designed for connecting with others who share similar experiences and circumstances.
The Tidewell Honors Veterans program is a Level 5 Partner of the We Honor Veterans program – the highest attainable level – developed by the National Hospice and Palliative Care Organization in collaboration with the Department of Veterans Affairs. The We Honor Veterans program equips our team with resources and guidance to care for veteran patients at the end of life.
Leaving a Legacy
Veteran patients are encouraged to tell their stories to share their experiences with future generations. Tidewell staff and volunteers work with veterans and their families to create a legacy project capturing their military stories as a part of their overall life story.
Pinning Ceremonies
In addition to specialized care, Tidewell Honors Veterans offers to recognize veterans with special pinning ceremonies. These events can be intimate and include the veteran and their families or on larger scales at care facilities or in the community with a group of veterans. It's up to each veteran. Veterans receive a certificate of appreciation and a Tidewell Honors Veterans pin presented by a fellow or former serviceman or servicewoman specially trained as a Tidewell Veteran volunteer.
For more information on Tidewell's Honors Veterans program or how Tidewell can serve a veteran call (855) 843-3935.
Veteran services are made possible by generous donations from our community to the Tidewell Foundation.