Caring for the Young and Their Families
When children receive a terminal diagnosis they and their families need special care. Tidewell Hospice helps young patients live life to the fullest while providing the pain and symptom management appropriate for them.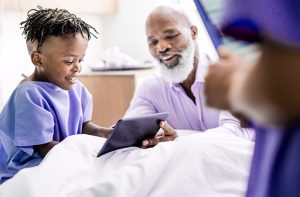 Tidewell's Children's Services focus on helping children remain at home in their environments while providing the medical and emotional support they and their families need. Families have access to:
Communication with their team 24/7 when needed
Pain and symptom management specially designed for children
Coordination with patient's doctors for continuity of care
Individual and family counseling
Access to complementary therapies including play, art and music
Help identifying needed resources to meet the family's financial, emotional and spiritual needs
Hands-on training and education
Specialized spiritual support
Specialized grief support for the family before and following their loss
Call (855) 843-3935 to learn more how Tidewell Children's Services can help you and your family.