Specialized Grief Support for
Children and Teens
The Blue Butterfly program serves and supports grieving children and teens ages 5-18 following the death of a significant person in their lives. The program is staffed by licensed mental health professionals and supported by specially-trained volunteers. We use clinical practices and programs shown to be effective. These grief groups not only support children, but also their caregivers in order for them to learn to deal with their grief so they in turn can help their children.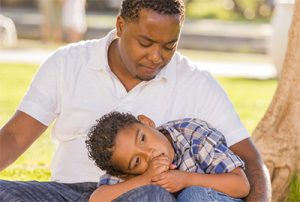 Blue Butterfly services are available throughout Tidewell's service area:
Tidewell Family Grief Center Ellenton
(map)
4151 37th St. E.
Palmetto, FL 34221
Blue Butterfly Family Grief Center
(map)
6800 Professional Pkwy. W.
Lakewood Ranch, FL 34240
Newtown-Bethlehem Bible Church
(map)
1680 18th St.
Sarasota, FL 34234
Port Charlotte–First Alliance Church
(map)
20444 Midway Blvd.
Port Charlotte, FL 33952
Common Grief Reactions in Children
Grief expressions in children come in many forms and can include:
Changes in eating, sleeping and relationships
Emotional outbursts
Increase in negative behaviors
Changes in school performance, both negative and positive
Regression in developmental abilities
Physical complaints including headaches, stomachaches, muscle aches and more
Inability to identify and express feelings about the death
Enroll Your Family
To learn more about the Blue Butterfly Program call (941) 893-6610 or complete the Grief Support form. Para hablar con un consejero en español, por favor llame al (941) 894-1704.
NEW! Blue Butterfly Saturday Support Group now available. Call Blue Butterfly to learn more or enroll your child!
.
Blue Butterfly Children's Grief services are made possible by the generous donations from our community to the Tidewell Foundation.